Corporate
Development
Why IMAP Albia Capital
At IMAP Albia Capital, we have developed a methodology and we have a sufficiently experienced staff to guide the companies, whatever sector they belong to in their growth process. In this respect, we consider any possible corporate transaction (acquisition, merger, etc.) to be an orderly thought process where the involvement of IMAP Albia Capital's professionals can provide order and clarity and, in short, they can reduce the uncertainty related to decision-making.
Advisory Services
The advisory services in Corporate Development provided by IMAP Albia Capital are aimed at enabling companies to define a specific growth strategy after they have made the decision to boost their business.
In short, we accompany clients to specify how to deal with their expansion project and where to take it as a preliminary step before starting, where applicable, a possible development process (acquisition, merger, etc.).
When defining one's own strategy in Corporate Development, the advisory services are on the bottom of the pyramid that brings together all the services related to Corporate Finance, and this is defined as a bottom-up strategy: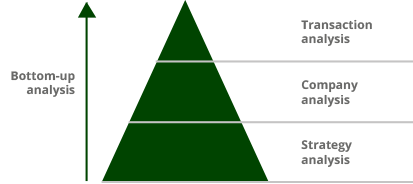 Our work
IMAP Albia Capital's consultants focus on:
Listing the various growth paths available.
Assessing whether or not they adapt to the client's specific features.
Based on this, establishing a development strategy which will be used for the activity's subsequent growth process.
Development strategies
Conceptually, the various development strategies to be implemented by our clients focus on:
Intensifying their current business: By implementing the following processes:

Sector concentration: build-ups, mergers, etc.
Internationalisation: establishing subsidiaries (greenfield strategy) or buying competitors abroad.
Horizontal integration: adding activities and/or products to supplement the current ones.
Vertical integration: increasing the added value of the company's offering by including activities that were offered by suppliers (backward) or by clients (forward) until that date.

New businesses in connected areas: The connection with the Company's current activity may focus on:

Technology
The market or the marketing channel
The product or service provided

New businesses in unconnected areas: Pure diversification, without synergy between any of the current and new businesses.
The Corporate Development Strategy defined in this type of service usually continues with an order to select, analyse and complete the acquisition process of a company that conforms to the aforementioned criteria.