Elías Martínez, para el Centro de Innovación y Emprendimiento ISEA – Corporación MONDRAGON
Elías Martínez lecture on 5 th October ISEA, Innovation and Entrepreneurship Center specialized in Business Services Sector promoted by MONDRAGON Corporation, about "Private Equity and other alternative financing services
".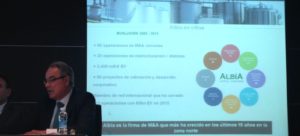 Elias Martínez stated in his speech that when financing an important project, the company always has "The Eternal Dilemma"
Few decisions in life are as important as funding a big project because it can condition its future absolutely.
Therefore a corporate process requires a preliminary analysis of the Business Strategy: "What I want to do", for afterwards start exploring the different options, in which he deepened during his speech.