Thursday April 12th, 2018
¿Quieres crecer? Diversifica tus fuentes de financiación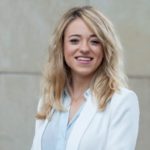 Sara Villasante, Analyst
There is a lot of money, a great deal of money available for investment in equity and debt. Institutional investors are looking for good projects to invest in and interest rates are at their lowest level in history (0%).
As mentioned in Want to compete? Then you need to expand https://albiacapital.com/en/empresa-compraventa-dimension/, Spanish SMEs are at a serious disadvantage compared to neighbouring economies in terms of competitiveness, which could be problematic in the long run. The opportunities for growth are there and companies would be foolish to let them slip by, since we have everything going for us in the current environment.
CURRENT FINANCING SCHEMES FOR SPANISH SMEs
Access to financing continues to be one of the biggest problems faced by Spanish SMEs and although things have improved in recent years, it is currently the top concern for 9% of Spanish SMEs (vs. 23% in 2013). Spanish SMEs use 40% of their financing for working capital (vs. 34% of European SMEs), 27% for fixed asset investments (vs. 38% of EU SMEs) and just slightly over 10% of financing is used for new product development, staff hiring/training, refinancing and other uses. We lag behind when it comes to using part of our financing for business growth and development compared to our EU neighbours.
EVOLUTION OF INTEREST RATES
We started out by saying that this is an ideal time to undertake new growth projects since the financing situation at this time is extremely favourable. Now is the time to take on debt. Taking on debt is efficient as long as the yields obtained on the investment are higher than the cost of the financing, and interest rates are at record lows as seen on Chart 2. But we do not know how long these low rates will last. As the economic situation improves, the ECB is expected to raise interest rates just as the US has already done.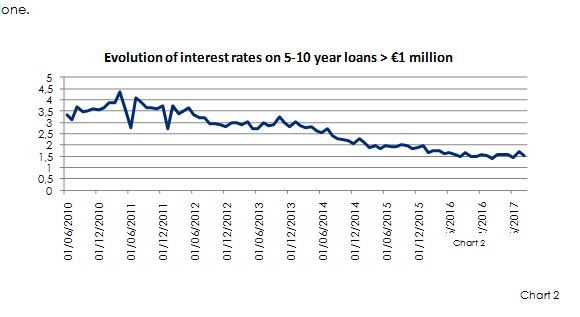 During the crisis of 2008, Spanish SMEs were excessively dependent on banks, forcing many companies into critical situations, and others that could have overcome their difficulties with a more diversified financing structure, to disappear. Some countries have learned from the errors of the past and non-banking financing has increased considerably, although in Spain there is much work to be done in this area.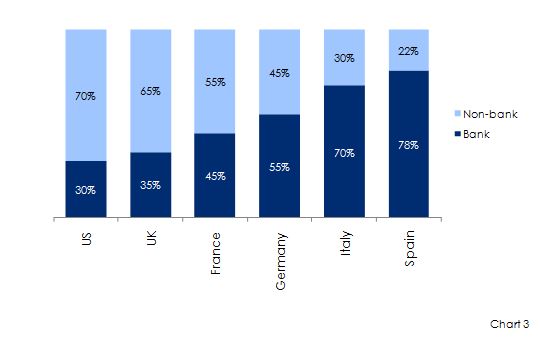 FINANCING ALTERNATIVES
SMEs account for 99% of Spain's industrial fabric. In this context, it is important to seek alternatives to the bank lending option for greater stability and diversification of financing sources such as crowdlending (collective financing), direct lending funds or bonds, among others. These are all more flexible alternatives that are better adapted to the particular conditions of companies than traditional bank financing for companies that do not meet the traditional size and creditworthiness requirements imposed by banks.  These alternatives are described in further detail below:
Crowdlending: These are loans extended by individuals to business projects through an online platform. Interest rates range from 4% to 12%, with terms from 1 to 7 years. In Spain, crowdlending has provided €103 million in financing in a 3-year period, although this represents only 0.35% of the total European volume. The platforms are regulated by the Business Finance Promotion Law passed in April 2015. Loans up to €3 million can be obtained with this option, which is almost anecdotal as far as business financing goes.
Debt lending funds: Direct lending funds are investment funds that use the capital to lend to companies. Interest rates can range anywhere from 6%-9% for a low-risk profile to 12%-15% for high-risk, with 4-7 year repayment terms and a bullet structure. The funds can provide financing solutions ranging between 3 and 100 million euros. Funds of this kind such as Aria Capital Partners, Black Toro Capital, Bravo Capital, Iberian Private Debt, Muzinich and Oquendo Capital among others, began operating in Spain starting in 2014.
MARF: Corporate bonds are debt or fixed-income securities issued by companies to obtain financing from financial markets. The Alternative Fixed Income Market (MARF) was created in Spain in 2013 as a mechanism to provide Spanish SMEs with access to liquidity through the negotiation of promissory notes and bonds with domestic and foreign institutional investors, as an alternative to bank financing. Although intended primarily for SMEs, the reality is that the requirements are such that access is very limited for most Spanish SMEs. Companies must be highly solvent with a turnover of more than €50 million, profits of more than €10 million and issues greater than €20 million.
Spanish SMEs also have the option of accessing other markets aside from MARF. At the European level, various stock exchanges have created fixed income trading platforms, such as AIM in London or Euronext Bonds, which comprises the Paris, Brussels, Amsterdam, Luxembourg and Lisbon stock exchanges and which also finances SMEs from non-member countries such as Germany, Italy and Spain. Through this platform, companies have direct access to 80% of European funds and the investors are much larger and more specialised than in Spain. One of the benefits of bond issues is that companies go from being known only to their customers and suppliers to having exposure to a large number of economic agents. Terms and interest rates are also much more attractive than direct lending funds.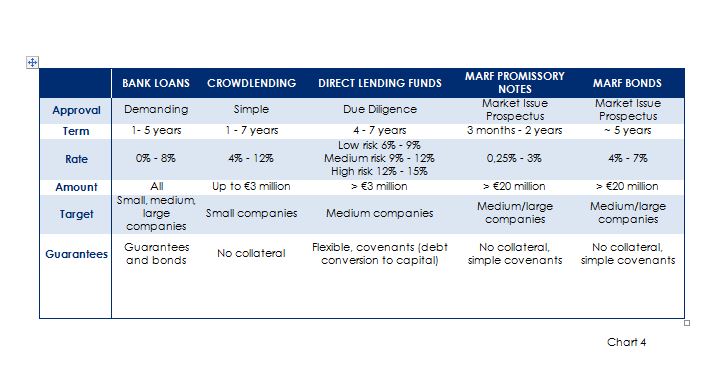 To recap, this is a good time to obtain alternative financing. It is a historic moment in terms of liquidity and a chance for companies to reduce their dependence on banks, not only to diversify risks but also to open up new possibilities for innovation and growth.  However, the difference in interest rates between bank financing and the alternative instruments discussed in this article is the biggest obstacle to developing business financing alternatives. In fact, these financing tools should not be understood as alternatives to bank financing but rather a way to supplement it. They are particularly attractive for operations that banks traditionally refuse to finance: company acquisitions, share purchases between partners, liability restructuring, extraordinary dividends, incipient real estate development, etc.